I watched this one tonight and found that overall, I wasn't really into it. Maybe it was how it started off with the weird green technicolor fading in and out, a boring song, and then the shrieking voice of the aunty and badly done scene transitions. And then, I was disappointed that the "country boy in the city" storyline wasn't as funny or as realistic as I'd hoped. One review I read said that story is loosely based on Hamlet and contains lots of poetry and commentary on social issues, but I was never able to see the movie seriously enough to view it that way (or maybe I missed stuff in the subtitles). The film seemed to take forever to get past the introductory set up and finally get to some sort of interesting plot- I didn't care about any of the characters until just past the one hour mark. That's a long time to have to wait!
After the one hour mark, things started to get more interesting. The
"Eena Meena Deeka"
song (this is one of two versions) is crazy and fun, and apparently one of the first rock-and-roll hits in India. And there are lots of disguises that Vyjayantimala and Kishore don! I loved Vijaya dressed up like a prisoner/Shree 420, and was proud that I understood the reference to her earlier film Nagin. I posted some screencaps over in her
stargazing thread
. In fact, the majority of the songs are fun and retro, and as always Vyjayantimala is wonderful to watch dance and emote. But I have to warn that the print quality of the film gets pretty bad at times (at least on the ultra dvd version), and so some songs like "Chal Chal Re Kanhaiya" looks queasily-green and have lots of lines and scratches popping up on the screen every two seconds. I thought "O Ja Re Chanda" was such a beautiful song.
And that brings me to
Kishore Kumar
- I really love this man. Something about him is so charismatic, funny, and endearing- I really enjoyed watching him, though I am eager to see him in a serious/romantic role. He was quite funny disguised as an the Arab Abdul Rehman in the last half of the film, and I'm sure I missed some of his subtle hilarities while I was trying to read the subtitles. This is the first film I've seen him in- I remember when I first got into Bollywood oldies a while back I saw a picture of him and immediately thought "wow that is one unattractive fella," but on screen he is fascinating. If anyone has any recommendations of good Kishore films, please let me know! Oh, and I didn't realize until now that he is also a playback singer and sang some of the songs on the soundtrack!
Other than that, the film has this whole murder-framing-kidnapping plot, but I thought it was done less engagingly than I like. It's much more restrained (i.e. boring) than films like Jewel Thief or Teesri Manzil. The ending is naturally over-the-top with a theater performance revealing the whodunit aspect and Raj's hilarious reactions.
Overall, I think some general browsing and watching the songs is enough to feel satisfied- no need to sit through the almost 2.5 hours!
A couple 'caps of Kishore: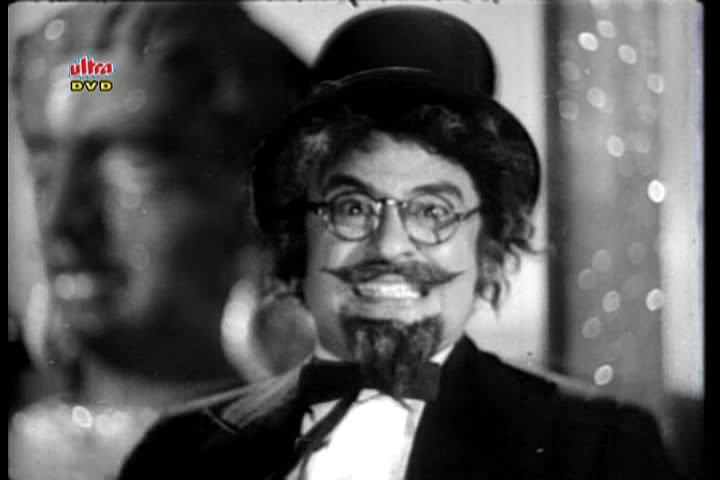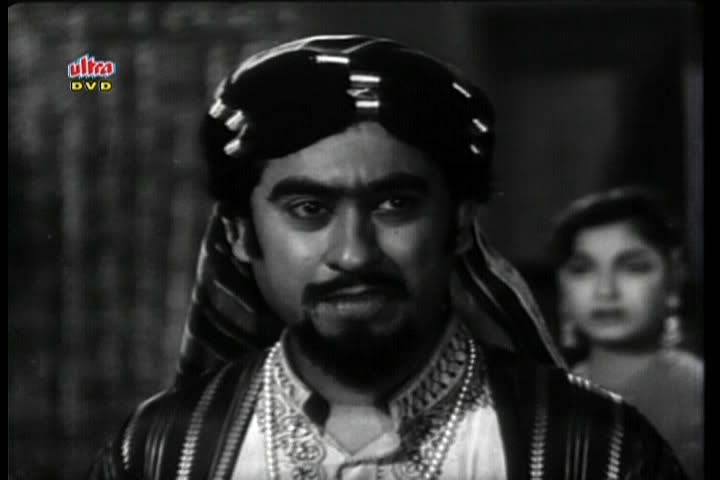 Screencaps of the fabulous Vyjayanthimala: